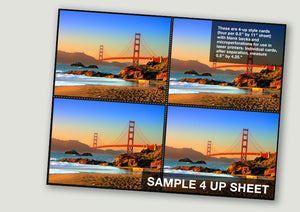 Ordering Cards from PatientCare Cards is Easy!
• Order our cards online by viewing our Card Collections.
• Order our cards by calling Jeff or Susan at 206-281-1150
• Download, print and complete this order form, then fax it to 888-262-7102
More to know...
• We recommend you use our secure, encrypted e-commerce platform to place your order.  Our site will direct you to PayPal, where you can use a debit or credit card.  You are also welcome to sign into your PayPal account if you prefer.
• Pricing includes shipping and handling.
• Sales tax will be charged to Washington State customers only.  At this time, no sales tax is charged for orders shipped to other states.
• Pricing is based per card.  If you order 100 cards, you will receive 25 sheets of 4-up cards.
• Cards are sold in lots of 100's.  If you specify a quantity of "5" in your cart, you will receive 500 cards (125 sheets) with a price of $91.
• Minimum order is 100 cards (25 sheets).  The more you order, the lower the price per card! Discounted price will be shown at checkout.
Card Prices (more quantity options shown in cart):
100 cards: $38 (38 cents each)
500 cards: $91 (18.2 cents each)
1000 cards: $146 (14.6 cents each)
2000 cards:  $280 (14 cents each)
4000 cards: $520 (13 cents each)
Over 4000 cards: (12.8 cents each)